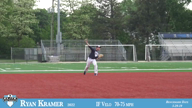 Personal Statement
I currently attend the Latin School of Chicago. I have been playing travel baseball since I was 8 years old and I currently play for Windy City Baseball 15U Blue.  I am a starting third baseman and a starting right-handed pitcher. When i am not playing third or pitching, I play first base, however I am also a utility player who can placed at any position.  As a freshman, I started on the Varsity Baseball Team and was voted All-Conference. 
In February 2019, I was selected by former MLB Pitcher Jim Parque to represent the USA at the Latin American Baseball Classic World Games in Santo Domingo. On July 31, 2019, I traveled to the Dominican Republic as one of a only a few hundred players selected nationwide to participate on the USA teams (9u-18u) to play on the US 16U team. On the first day of practice,  Coach Parque moved me up to play to the 18u team as one of two 15 year olds on the team.  At the end of the week, I was one of two 18u USA players selected for the All Tournament Team made up of 18 year old players from all the countries represented at the games.  An important part of this trip was service as players, were asked to bring old baseball equipment to donate to Dominican players who desperately need these items. I worked hard to collect 4 duffle bags of baseball equipment which I brought with me to donate. This trip taught me a lot about baseball, but more importantly it opened my eyes to life in a third world country and how fortunate I am to live in the states, go to a good school, have the opportunity to go to college, and play the sport I love.
In the summer of 2017, I was selected to represent Chicago at the JCC Maccabi Games in Miami, Florida on the 14U baseball team. The JCC Maccabi Games are an Olympic-style sporting competition held each summer in North America and is the second largest organized sports program for Jewish teenagers in the world. Teens from all over the United States participated in the Miami games, as well as youth from Israel, Mexico, Canada, Panama and Great Britain. My team went into the playoffs with a perfect record as the number one seed and came in second overall. It was an amazing experience playing with, and meeting kids from all over and learning more about my heritage (and Major Leaguer Justin Bour attended our final game and we got to meet him!). In 2018 I was selected again to represent Chicago at the games in Orange County, California.
Please also visit my PBR profile for additional videos and information at https://www.prepbaseballreport.com/profiles/IL/Ryan-Kramer-1372084965