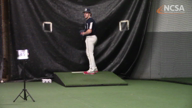 Personal Statement
My name is Logan and some of the activities that I enjoy are playing sports and hanging out with my friends and family. I play several sports because I think each sport will help me to develop myself as a complete athlete. I play baseball, football, basketball and run track. I am also an avid weight lifter and challenge myself with all types of exercises.
My parents influenced me to always work hard and do my best, not just for the team, but to live up to my own expectations. They pushed me hard to succeed academically before I focus on sports. The bar has always been set high.  A's are expected along with 150% effort on my part. My parents are involved in my sports, school and social activities.
My parents kept me out of organized sports until I was 7 years old. Our main focus was family and spending time together. Many weekends were spent camping, swimming, and playing outside.
When I first started playing baseball I instantly loved it, the smells, the feelings, and the competitive tournament play was all I could ask for in a sport. I couldn't get enough of the sport so when baseball season was over I had to play more sports so that I could feel the competitive nature again. So, I decided to become involved in football, basketball and track. But baseball will always be my number one sport.
I think the biggest obstacle I have had to overcome was truly valuing and learning the importance of being a leader and more importantly the best team mate. My coaches and teachers would say I am a natural born leader. My team mates would say I am a great team mate. If my coaches, teachers or parents were asked what makes me unique, they would say my strong work ethic, perseverance, competitive nature, athleticism, and my sense of humor.