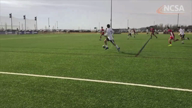 Personal Statement
Hello, my name is Ian Cabrera and I am just starting my senior year at Hamilton High West in Hamilton Township, New Jersey.  My goal is to find a school that compliments my desire to play competitive soccer and a learning environment where I can succeed and give my best as a student.
I play right midfield and right/left wing. I start as a right midfielder for my varsity high school team (since 9th grade), and I play either as right midfielder or right/left wing for my club team, Princeton Futbol Club (PFC). Worth to mention, I am very proud to be part of the Princeton FC 02 Boca team that won the US Club Soccer National Championship last year, July 2018, in Aurora, Colorado.
At the Olympic Development Program level (ODP), I was selected to the 2015-2016 Region 1 team and I was a member of the New Jersey ODP from 2014 to 2016. I was also honored as one of the Outstanding Players in the 2016 New Jersey Youth Soccer Awards Dinner Ceremony for having made a special contribution to soccer in New Jersey.
Throughout my young soccer career, I have attended many camps (NAVY, AC Milan Camp, FC Barcelona Camp, Rider University, TOVO Academy in Barcelona) and learned from some of the best coaches in the tri-state area and abroad. That sort of competition and experiences have helped me become a well-rounded player.
A key aspect of my game is vision of the field, which allows me to make quick and accurate decisions with the ball in order to relief pressure from opponents and provide at the same time advantage to teammates, coupled with well-developed technical skills. Even though it has been a challenging year due to injuries, being in the sidelines for almost 4 months have proved to be an eye opener not just soccer-wise but academically as well. I felt the frustration of being on the bench unable to help my team win more games but I realized I need to work much harder to get where I know I can be as a player as well as a dedicated, focus student.
Finally, even though my grades are not my best asset, I envision my college years to be a period for personal development. As I grow both physically and mentally throughout my high school and potential college student-soccer career, I will strive to be an asset to the team, teammates, coaches, and most importantly, I will behave with honor and respect on and off the field knowing that the way I conduct myself reflects the prestigious institution I attend.
Thank you for taking the time to get to know me!