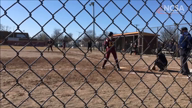 Personal Statement
     I started playing t-ball through the city rec program when I was five years old. I quickly developed a love for the sport of softball and found comfort on the mound and first base. A volunteer pitching coach position for 8-10 year olds in that same city rec program became available in 2019 and I accepted the position.  By doing so, I am able to give back to my community, instill the passion for the sport, help the youth with mechanics, and have fun. 
    I participated in a number of community service projects through softball, learning about strength, empathy and adversity. I, too, have had and continue to overcome adversity. I had a sports related injury and subsequent surgery that prevented me from playing softball for a season.  I was cleared to play volleyball which led to yet another injury.  Last season, as my schools starting JV pitcher, I worked through tremendous pain with an unknown tendon injury and helped bring my team to the league championship title. The "Tough as a Pirate" award was created for the school's softball program and I was its first recipient. As a sophomore, I received an academic letter and continue to work on maintaining good grades. 
     My long term goal is to go to college to obtain a Doctor of Physical Therapy degree and open my own physical therapy clinic.  As an undergrad, I would like to continue playing  the sport I love, softball. I am a team player and am very coachable.