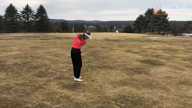 Personal Statement
I have been playing golf for about 5 years, however, I have only been playing competitively since the summer of 2018. What I love about the game of golf is that you can set goals for yourself, and the more you practice, the easier it is to achieve those goals. I also love the relationships that can be built with other people who also play, such as my teammates on my golf team. Lastly, I love how it builds mental strength the more that you play.
My strongest component of my game is probably my putting. I always work a lot around the greens throughout the summer while I am practicing in order to constantly improve this aspect of my game. My tee shots are also one of my strong point because they are very consistent. 
In school, I work very hard and set a high standard for myself. I always make sure to complete my work on time and turn it in when I know that it is the best that I can make it. I choose advanced courses if possible in order to further my education and better prepare myself for my college studies.
What I am looking for in a college is something that has a good pre-medical or biology program, as I hope to one day go to medical school. I am hoping to stay in the New England area as it would be closer to my hometown in Maine. However, I look forward to talking to any coach who is interested in having me become part of their team.