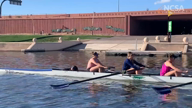 Personal Statement
The best way to describe who I am and why I love to row is by sharing a recent experience. To set the stage, it is the 2019 USRowing Southwest Youth Championships, my double partner, Kimmi, and I are pulling up to the start line of time trials. We are two short girls from a small Arizona rowing club facing much stronger teams with girls six plus feet and 20 plus pounds heavier than us. There are approximately 30 doubles entered and only the top 14 make it to semi-finals. About four weeks before the race, due to funding issues, our coaches announced that we each only get one race. This meant we would have to make it past time trials, against those powerhouse California teams, if we wanted to race. Kimmi and I researched the 2018 times that advanced in order to get an understanding of what we would need to aim for if we wanted a chance of making it past trials. We trained hard and consistently told each other to only focus on us, because in the end, that is all we could control. 
This was our last race of the season and our goal was to be proud of ourselves at the end of the race, no matter what place we got. We discussed a perfect race plan and had secret calls to motivate each other at points of the race where we knew it was hardest for each other. It was the best race of my rowing career and remains so today. I was not only pushing for myself, I was pushing for Kimmi and my coaches, Imran and Lisa, who knew that I was capable of more then I knew. We were in sync the entire race and every stroke we took was perfect. At the end of the race, on the way back to the shore, we reflected on the race and were extremely happy with each other; we executed our plan perfectly and pushed as hard as we could. Regardless of the result, we could leave proud of what we accomplished that day on the water. When we got to the beach our coaches were jumping up and down because the racing was done and we finished 12th. Our team was so excited for us, we were the only boat to represent Tempe Junior Crew in semi-finals.
I am sure you have heard more impressive achievements but I shared this because it was a time I was proud of myself as a person, not just a rower. For me rowing is about more than just a medal, it is about the journey to push past limitations and make connections and memories with my team.