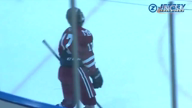 Personal Statement
   From the day I was born, things haven't always come easily for me. For example, at birth I was unable to hear and after 6 months, my parents found an Ear Doctor who as able to perform a surgery to restore my hearing. Since then, I guess you could say that perseverance and hard work are the traits that have always defined me. From the time I learned to skate when I was 6, I have been working hard at learning hockey and now, at 16, I know exactly what my goals are. My aspiration is to play Division 1 hockey and hopefully at the best academic school I can aspire to. My parents have always instilled in me a strong work ethic in all that I do. I am not the biggest kid on the ice, but you can be assured, I am always the hardest working. Some of the words that my coaches use to describe me are selfless, team player, coachable, hardworking, tough, mature and a leader. I think having grown up with a brother who has a disability, I learned how important it is to always try and see things through the other persons point of view and to try and be understanding of people's differences. Whether it is the kid sitting alone at the lunch table, or the new kid on the team just trying to fit in, I always try to be helpful and kind and include everyone. I know how hard little things can be for some people and it feels good to help others. Another way I try and help others is through community service. One of the goals I set for myself is to raise $100,000 for pediatric cancer during high school.  
In 2019, I created my own brand called Kids Ice Cancer. Kids Ice Cancer is an organization that raises money for pediatric cancer by organizing an annual youth all-star hockey game. I believe that kids want to give back to their community, so I make it easy by engaging hockey players to play a game they love while raising money for a great cause. Each year, we work with a pediatric cancer local non-profit and all our fundraising goes directly to our partners organization. This year we raised $125,000 for The Valerie Fund, a 501c3 charity that has been supporting children with cancer and blood disorders since 1976.
    One of the reasons I came to Morristown-Beard High School, a private school in NJ, was to put myself in the best academic school possible to prepare me for college and beyond. After high school, I want to go to college and study economics. I want to follow in the footsteps of my uncle, who studied economics at Cornell University and went on to a successful career in Wall Street.
    My dad used to play baseball when he was young and his favorite saying we quote a lot in our house is to "let your bat and glove do the talking for you".  The best way a coach could get to know me is to watch me play or talk to one of my coaches and let them tell you about my hockey skills and my character. My mom would say "What is your elevator pitch to a coach"? I would just say, "If you take a chance on me, I will never let you down and I will always give you 110%."