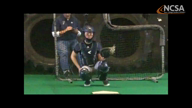 Personal Statement
My name is Emma Weiss, I am currently in the 9th grade at Regina High School in Warren, MI.  This is a catholic high school known, not only for their academics, but also for their incredible softball teams and the legacy of coach Diane Laffey.  I am in my 3rd season of travel fastpitch softball. I am the team catcher but also play short stop and third. I am also one of our team captains and I love being involved with my team, both on and off the field. I have had several of my coaches inspire me to follow my dream of playing softball in college. That seems so far away, but in reality, I know, it's right around the corner.
I have carried a 4.0 throughout all of middle school and so far in high school.  I am taking all the honors classes that are offered to me in the 9th grade.  I would love to work in the medical field, possibly as a Physician's Assistance. I hope to pursue a college that not only has a great softball program, who is looking for a self motivated athlete, but I also want a school that can help me pursue my dream career.  
A key part of softball is team work. I work hard on my individual game, spending many hours at home working on the drills my coaches have given me to improve my game so I can bring my all to each game and tournament we play.  I also work hard on promoting team unity and encourage the team to do things together to help promote us working together on and off the field.  I have always been self motivated in school work and on the field, if I want to do something I work hard to get myself there.