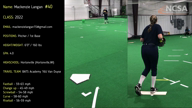 Personal Statement
I have played softball for 5 years and I hope to continue playing softball in college. I have and will continue to do whatever it takes to become better. My primary position is pitcher and my secondary position is first base. On my travel team I am considered one of the leaders. I am extremely encouraging throughout the ups and downs of the season. I always try to keep the team positive. As a pitcher my team looks at me for confidence and work ethic and I try to lead by example during games and practices.
My Fastball is currently 61-63 mph. I consistently use my change-up, screw, drop curve and rise ball.
I am interested in pursuing a major in kinesiology towards becoming a physical therapist. I am looking for a school that will provide opportunities to excel athletically and academically as I prepare for my future career.
My dad was my pitching coach until 2 seasons ago when he said it was time for someone better to take me to the next level. For the past 2 years I have been working with a Tincher Pitching coach who has helped me to realize my potential in velocity, movement and control. My dad, being a former college athlete, told me to always hustle, be humble and respect the game. As I play softball and heads drop or errors occur on the field I can hear my dads voice in my head saying, "Do Your Job". This phrase has stuck with me and helps me encourage my teammates and helps me focus on my own play.
Since 3rd grade I have played on competitive basketball, volleyball and softball teams. I decided this year to stop playing basketball to truly work at pitching and developing my 6'0" frame for the game of softball. Only in the circle with the ball in my hand do I truly feel at home.
Thank you for taking the time to read my profile.
Mackenzie Langan