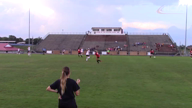 Personal Statement
I started playing soccer at the age of 5 years old, and feel in love with the soccer immediately.  I strive every time that I am on the field is to do my best and help my team be the best.  My goals in soccer and life is to be the best athlete I can be, keep my grades up, and work on obtaining my degree in interior design.
I feel that I would be a good candidate because I am reliable and coachable. Every time I am on the practice field or game field, I try to push my self and my team to do the best. This past year I have even tried new positions on the field to include defense, mid field, forward and even goalie.  I feel that I have done well in all the positions.  Thus a unique characteristic for me is my flexibility on the field to play different positions.
I'm looking for a college that will challenge me both on the field and academically.  I am willing to push myself for the team and do what is best for the team.