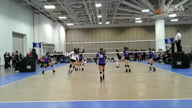 Personal Statement
My name is Rose McDermott and I am a 2021 sophomore at New Trier High School in Winnetka, Illinois. I am a libero and I play for the 16 Black Wildcat Juniors Volleyball Club (#40).
As a student, I set goals and high standards for myself. I currently have a 4.47 GPA. I am a member of ELS (Enriching Lives through Service) where I work with students with special needs.
I am very committed to improving as a volleyball player. I train with Dr. Will Ko, a strength training specialist.  Also, I train with Evelyn Kim and Carli Weiler (Michigan State libero from 2008-2011) for position specific training.
In addition to playing volleyball, I am a first degree belt in Taekwondo. As a student of Taekwondo, I have learned respect, self-discipline, work ethic, and perseverance in completing tasks, and how to work well within a team.  
My goal is to attend a university that offers the combination of elite academics and athletics.  I believe I have the ability to be a part of the team, and contribute to its future success.