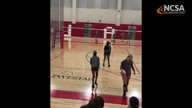 Personal Statement
My goals for college and life are to excel in school and volleyball. I have been playing volleyball and softball my whole life loving every minute of it and I'm ready for the next level. Juggling and competing as a two sport athlete is hard but I am passionate and focused on volleyball.  I fell in love with this sport because it is a fast paced game and because its such a positive sport.  I knew since the sixth grade I wanted to compete at the next level. I started going to as many camps, clinics, and playing on club teams. My freshman year I worked hard for a starting spot on the varsity team as libero and I was determined to make it happen.
Playing travel softball and club volleyball  I  feel I am very coachable with a great work ethic. Having to work under all kinds of coaches,  I am absolutely a team player who will put the work in for my team. I am also very driven in my academics and knowing life after volleyball is very important.
What makes me different from other recruits maybe my character. My family, friends and faith are very important to me.  I have a great home life with incredible support They have encouraged me in every was possible and have played huge role in my life as well as helping make my career in volleyball a reality. I love meeting new people and new teammates.  It's very important to me that my teammates and I have a strong bond and get to know each other well because if the team has a special bond and can trust in one another its always good for team chemistry as well as success of the team.  Also in the future I look forward to continuing my career in the medical field as a dentist/orthodontist.  I fully understand the work and academics I will need to achieve my goal in the medical field.
In conclusion I look forward to being in contact will all of the coaches who are interested in me as a student athlete and I feel like I will love to see all of the different opportunity's that come my way. I hope I  will find my perfect choice in a college as a student athlete with this program.