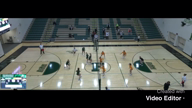 Personal Statement
While overcoming difficult obstacles throughout my life they have made me into the volleyball player I am today. These obstacles have taught me very valuable life lessons and to not take anything for granted because a lot of girls don't have this opportunity like I do. They also have influenced who I am today by making me stronger, helping me grow mentally, and showing me to be patient. 
During my 10 years of playing volleyball I really started to get interested by seeing that there is way more to the game of volleyball outside of Winona. Seeing the girls getting that perfect dig or great save on the tv when I was younger really put a desire and burning passion within me to take this activity of mine to another level. When in Winona's small volleyball club and only going to little tournaments I craved bigger and better tournaments with harder competition. That's when my family decided to go to the club V-Hawks Extreme which opened a whole new light and door for me. I got on the best team for my age my first year and knew that I had to work hard to prove that I belonged on that team and that libero spot was mine. During my junior year of high school I saw that an impactful mentor of mine created a national team in his club, which then led me to doing what's best for myself and trying out for it. Getting on that team for the club Elevate was the best decision I have every made to further my career in the game of volleyball. Not only did it help me overcome many obstacles it also helped me seeing what true team culture is. 
I want a college who is going to be there every step of the way with me including academically. For college I hope to get on a volleyball team that sees more to just winning a game but to see how far they have come mentally and physically just from the first practice. Including to get excited over every little accomplishment. While wanting to be in a medical/science major my goal is to balance out the two things and be able to be the best student I can be as well. 
I am different from other liberos because I love to be the loudest in the room and the leader on the court. When I walk into a practice or a game I always influence the energy and team culture.  I am a good candidate for your team because whether its encouraging my teammates or giving them pep talks to get us back into the game I know we can overcome any situation that comes our way. I also am a good listener and coachable athlete knowing that this won't only help me but it also will help my teammates out. Every single day whether its at a camp, practice, or a tourney I work my hardests to get a touch on the ball and whatever it takes to make a start for a great play. My work ethic and mindset is what makes me the volleyball player I am today making sure to not give up and to practice over and over again until I get it right.