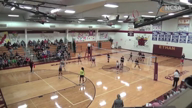 Personal Statement
As I move on to college, I am excited to broaden my horizons not only through academics, but also through athletics.  Volleyball has had a very significant impact on my life.  I've gained countless skills,  but not just those that pertain to volleyball; skills that have helped me grow as a person as well.  My mom also played college volleyball, and I would absolutely love to follow in her footsteps!
I understand my height is not as impressive as most, but I believe I make up for it with my quickness and my vertical that continues to rise. As an athlete, I strive to be the best player on the court. It's a goal that keeps me working, and in turn helps me to become the best player I can be. I am constantly working to better myself, along with my team through hard work and positivity.  Volleyball has especially taught me the importance of those two things.  I have a tremendous passion for this sport, and I believe that's what makes me stand out. 
In the classroom, I can proudly say I have maintained a 4.0 GPA and am at the top of my class. I am undecided on my college major, but I am juggling a few different options at the moment!