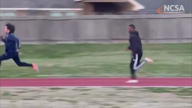 Personal Statement
My name is Alex Lopez. What sets me apart from the rest is my dedication and my work ethic. Many may claim they are committed, but to me, being committed is changing my life all around as in changing my diet, not going to parties and having good conduct even when others aren't around, and putting in the extra work on my own time. For example I've gone plant based completely and I've seen major improvements in my running and overall health. 
Due to the unfortunate rise in Covid-19, my junior season came to a screeching halt. On top of the season being cancelled, I was no longer able to train with my team for a couple of months. I took it upon myself to go out and run everyday and lift at home and do the most to keep myself in shape. Since then, I've  been back with my team and have been training and working constantly, resulting in me being in the best shape of my life now. I have taken advantage of this time,  shaving seconds off my times from my sophomore times.
My collegiate goals athletically, include being able to run track at the higher level and continuing to set personal bests and get faster as the years progress . Academically, I want to graduate with a major in business and use that degree to follow my passion for working with people in a business enterprise
Overall, I would be a good candidate for your team because I am someone who doesn't accept failure and let that bog them down, but instead when faced with hardship and possible failure I rise against it and see how I can better myself as a result of it.  Lastly, I conduct myself to the highest standard and don't accept any less from myself than I know I am capable of. Thank you for reading.