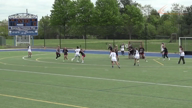 Personal Statement
I would like to play lacrosse in college because lacrosse has given me a sense of purpose in my life since I started playing in 5th grade.  I have realized the importance of how I eat, how much I exercise, and scheduling my homework and other activities so I have plenty of time to focus on what I love, which is lacrosse. 
Some people may say that sports should be secondary to academics. But I disagree, because they should not be compared at all, as they are 2 different things. Many studies have come out in the last few years that prove that exercise is important for the body and the brain. I know that I am sharper and more efficient at school because I play lacrosse.
Besides the physical and brain benefits, I also have learned a lot about myself through lacrosse. There are so many opportunities to be a good leader and a good teammate. It's also fun to prepare for something with a group of like-minded people and follow it through. If  you win, great! But if not, sharing the journey was fun. 
I am a good teammate because I always build up my teammates by encouragement. I have a group of teammates that I run with in the off-season and during lacrosse season, before practice. I try to set a good example by choosing healthy foods. I also never want to be a "ball hog." I think it's a flaw in some of the really good players and undermines the whole team.