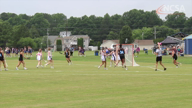 Personal Statement
I started playing lacrosse in spring of 7th grade when my friend asked me to be their teams goalie. I had never played any outdoor sports, as I have previously been a dancer since I was 4 years old.  After that first spring I fell in love with the game and now I have been playing for 3 years for Cavaliers lacrosse club and am in my second year of playing at Loudoun county high school. 
I have good stick skills and composure outside the crease,  I see the field very well and have lots of drive to do my best always. I am a team leader along with always encouraging my teammates to do their best. I am very coachable and always work my hardest no matter what. 
In school I maintain a high GPA while taking challenging classes. I love participating in extracurricular actives such as clubs and student council (government). I am a sophomore delegate in SCA which means I am the student representative for the freshman and sophomore classes. I also partake in educators rising and tutor in elementary and middle schools. Along with school activities, I love giving back to my community. I am very active in my church and volunteer at senior centers and homeless shelters with my youth group. 
I am looking for a college where I can challenge myself on and off the field. I am very open minded and ultimately want to find the best fit for me with the highest level of competition.